Missed Connections
Short Animation Film - 2024 - 5:03 min

'Missed Connections' is an online forum where anyone can post their story, in hopes of reconnecting with someone they shared a passing moment with. The film presents several vignettes taken from the forum, exploring these humorous, vulnerable and surreal aspects of pursuing romance in a contemporary city.

Jack Gray
2024

Sound Design
Judy Kim

Music Design
Edouard Abrieu

Menagerie

Short Animation Film - 2022 - 4:26 min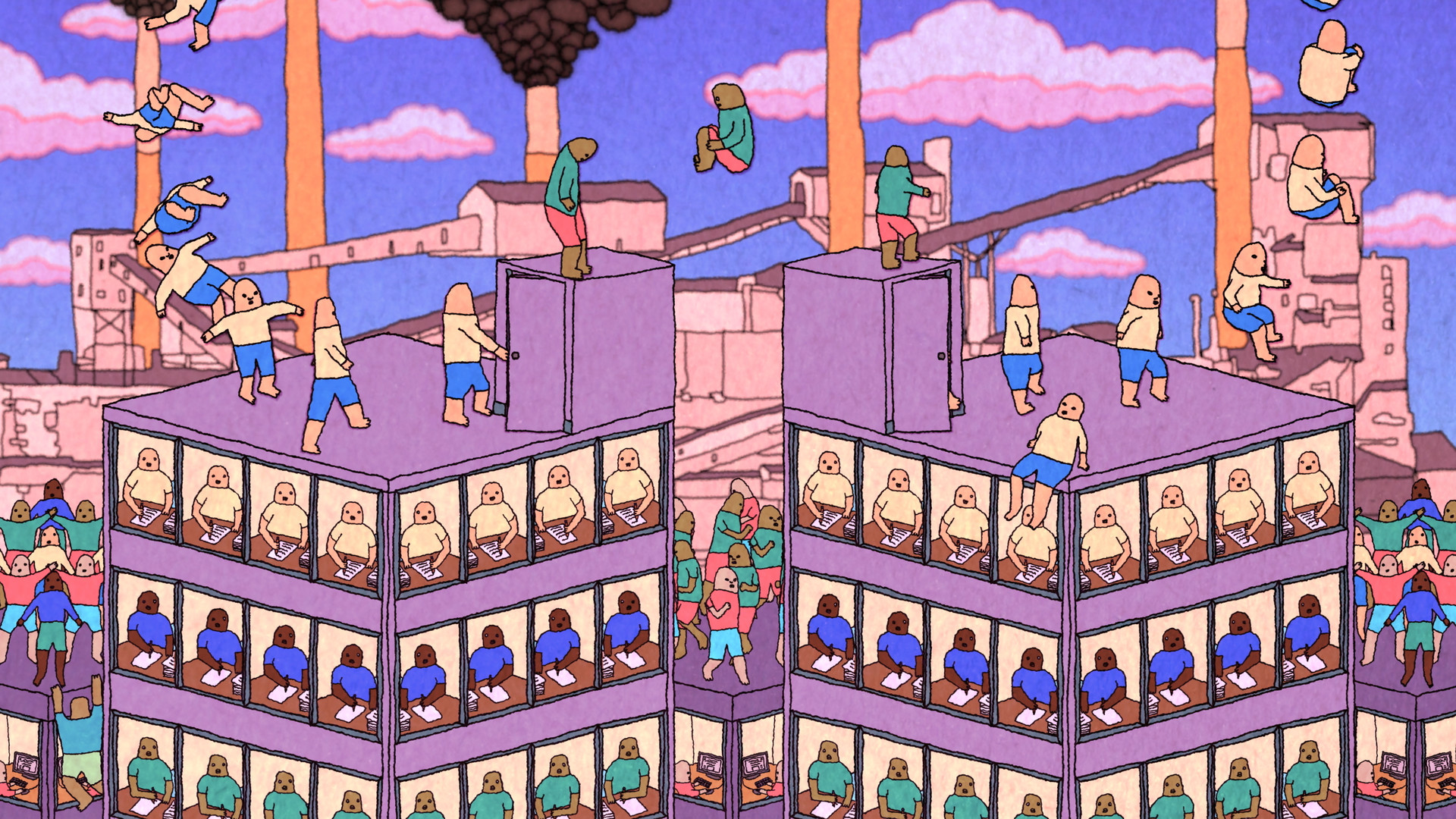 Day after day, inhabitants of the Menagerie play out their daily lives like clockwork.

Menagerie is a study of the daily motions and mundane tasks of contemporary city life. Featuring hundreds of looping animated characters, the film explores how the repetitive actions of our day-to-day lives quickly spiral into an endless kaleidoscope of abstraction.

Directed by Jack Gray
Sound Design by Judy Kim
Voice by Alicia Maye

Articles
-'Ten Unmissable Animated Shorts to Stream at GLAS Animation 2022'
Directors Notes

-'Jack Gray Examines the Absurdity of Everyday Routines in His Jam-Packed Looping Animation 'Menagerie'
Directors Notes

Awards
-GLAS Animation Festival 2022- US Competition Special Mention
-Animation Block Party 2022 - Best In Show Award
-Imaginaria Animation Festival 2022 - International Competition Special Mention Award
-Fantoche International Animation Festival 2022 - International Competition Special Mention Award
- Sweaty Eyeballs Animation Festival 2022 - Eyepopper Award - Best Experimental & Boundary Pushing

Screenings
2022

- MONSTRA - Lisboa Animation Festival - International Short Film Competition - Lisbon, Portugal - March
- Athens ANIMAFEST - Official Selection - Athens, Greece - March
- GLAS Animation Festival - US Competition - Berkeley, CA - US Competition - April
- International Short Film Festival Oberhausen - Children's and Youth Film Competition - Oberhausen, Germany - May
- Flatpack Festival - Short Film Competition - Birmingham, England - May
- Directors Notes Official Selection - Brighton, UK -May
- Animatricks Animation Festival Helsinki - Official Selection - Helsinki, Finland - May
- ANNY Animation Nights New York - Screened in Program #71, Season 7 In Competition Films - New York USA - May
- Krakow Film Festival - International Short Film Competition - Krakow, Poland - May
- Sydney Film Festival - Animation Program - Sydney, Australia - June
- Fest Anča - World Panorama - Žilina, Slovakia - June
- Screening at Substance Skatepark with NPCC.NYC, Supertight, Massacre Video - summer fest 2022 - Brooklyn, USA - June
- Athens Digital Arts Festival - Official Selection - Athens, Greece - June
- Cardiff Animation Nights - Screening at The Underdog - Cardiff, Wales - July
- X Insomnia International Open-Air Animation Film Festival - International Competition - Moscow, Russia - July
- International Animation Festival Chilemonos - International Short Film Competition - Santiago, Chile - July
- Imaginaria Animation Festival - Official Selection - Conversano, Italy - August
- Flickers Rhode Island International Film Festival - Animated Short Competition - Providence, RI - August
- Animation Block Party - Official Selection - Brooklyn, NYC - August
- Salute Your Shorts - Official Selection - Los Angeles, CA - August
- Festival of Animation Berlin - international Competition - Berlin, Germany - September
- Pictoplasma - Official Selection - Berlin, Germany - September
- Reykjavik International Film Festival - Youth Program - Reykjavik, Iceland - September
- Fantoche International Animation Film Festival - International Competition & Kids Film Competition - Baden, Switzerland - September
- Supernova Digital Animation Festival - Official Competition - Denver, CO - September
- Vermont Animated Film Festival - screening - Newbury, VT- September
- Sedicicorto International Film Festival - ANIMALAB Competition - Forlì, Italy - October
- Anim'est International Animation Festival - International Competition - Bucharest, Romania - October
- TAIS Animation Showcase - Official Competition - Toronto, Canada - October
- Sweaty Eyeballs Animation Festival - International Program - Baltimore, MD - October
- BitBang Animation Festival - International Competition - Buenos Aires, Argentina - October
- Festival Cinéma Jeune Public - International Short Competition - Lausanne, Switzerland - November
- London International Animation Festival - International Competition - London, England - November
- PÖFF Shorts - Non-Competitive Program - Tallinn, Estonia - November
- Chicago International Children's Film Festival - Official Selection - Chicago, IL - November
- Giant Incandescent Resonating Animation Festival - Official Selection - Calgary, Canada - November
- Tatsuno International Film Festival - Official Selection - Tatsuno, Japan - November
- CutOut Fest - Official Selection - Querétaro, Mexico - December

2023
- Animac International Animation Film Festival - Official Selection - Catalonia, Spain February
- San Diego Underground Film Festival - Official Selection - San Diego, CA - December
- T-Short Animated Film Online Festival - Bizarre Competition - Feb
- Ann Arbor Film Festival - Animation Competition - Ann Arbor, MI - March
- Glasgow Short Film Festival - International Competition & Welcome to the Multiverse program - Glasgow, Scotland - March
- Filmfest Dresden - Open Air Program - Dresden, Germany - April
-L'hybride - Best of Flatpack Festival Screening - Lille, France - May
- The Moviate Underground Film Festival - Official Selection - Harrisburg, PA - May
- Melbourne International Animation Festival - Official Selection - Melbourne, Australia - May
- Malt Adult #26 - Screened at Public Works Gallery in Wicker Park, Chicago, IL - May
- Palm Springs International Shortfest - Official Selection - Palm Springs, CA - June
-Rural Film Festival - Official Selection - Valencia, Spain - June
- North Park Film Festival - Official Selection - San Diego, CA - July
- La Guarimba Film Festival - La Grotta dei Piccoli Competition - Calabria - Italy - August
- Cinema Sem Conflitos - Screening - Açores, Portugal - October
- doubleFEATURE program broadcasted on Rhode Island PBS produced by Flickers Rhode Island International Film Festival - New England
- Viborg International Animation Festival - Short Film Competition - Viborg, Denmark - September
- Seoul Indie-Anifest - 19 Sho(r)ts - you welcome Program - Seoul, Korea - September
- Quickdraw Animation Society & Calgary Public Library - Fresh Frames + Giraf 4 Youth - Calgary, Canada - September
- SCAD Savannah Film Festival - Professional Animation Competition - Savannah, GA - October
- Macau International Short Film Festival - Animation Competition - Macau, China - Decembern









Navigational Dream

VR Documentation Video - 2017 - 3:07 min
Navigational Dream is a virtual dreamscape created from fractured 3D photogrammetric models of environments, objects, and people. Repetitious looping motions surround the viewer as they traverse through this digital world.

Screened at the Lausanne Underground Film And Music Festival. Experimental Film competition. Lausanne, Switzerland. Fall 2016

Shown at Vertical Horizons, Curated show at RISD Museums Gelman Gallery, Spring 2017.